With quality, selection and service like Onan's, it's no surprise that we've built more than one million RV GenSets. In fact, 8 out of 10 RVs with generators on the road today have an Onan.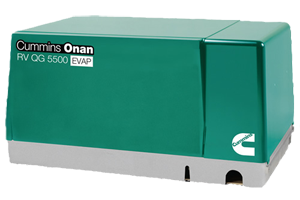 Onan designs generators specifically for RV use. Each new model undergoes extensive testing in the lab and in actual RVs to make sure it meets stringent performance, noise, vibration and emission standards. Plus...we back each unit with a three-year transferable, limited warranty and the largest certified parts and service dealer network in the business.
So, if you want a compact, smooth-running, exceptionally quiet generator you can rely on for excellent performance and trouble-free operation, turn to an Onan GenSet. You'll count yourself among more than a million satisfied consumers who have made Onan the number one choice for reliable, quiet GenSet power.
Onan also has a large selection of residential, industrial, and portable generators. Click here to visit the Cummins Onan Gensets website.