Generac's portable generator (under 12.5 kW) and pressure washer product lines were sold to Generac Portable Products, LLC, a separate and independent company in 1998.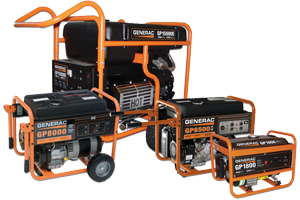 For information on portable generators (greater than 12.5 kW) please contact your local Industrial Generac Power Systems dealer.
Generac Portable Products continually rate the highest in quality, performance and value. Our extensive line of pressure washers and generators meet the demands of the homeowner and serious professional.
Generac Portable Products has a very large selection of portable generators.
Click here to visit the Generac Power Systems website.
---
KOHLER residential generator systems features a generator set, an automatic transfer switch, and a battery and charger.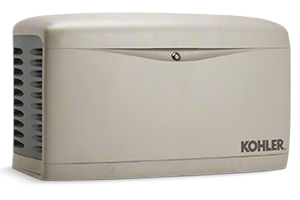 The system monitors your home's incoming utility power and automatically come online to supply electrical power during an interruption, even if you're not home. These emergency power systems can be installed outside existing homes or planned as part of a new construction project.
A KOHLER residential generator system, which is similar in size to a central air-conditioning unit, is installed by a KOHLER Power Professional in a permanent location outside your home and can be powered by natural gas (NG), or propane (LP).
The compact 8.5 and 11kW KOHLER generator systems are enclosed within an unobtrusive protective housing that is tamper-resistant, weatherproof and sound deadened. In addition, they feature internal exhaust systems to ensure safe and quiet operation. Weatherproof and sound deadened protective housings are popular accessories for KOHLER'S larger 17-50kW residential systems.
KOHLER also has a large selection of industrial, portable, and RV generators. Click here to visit the KOHLER Generators website.
---
With quality, selection and service like Onan's, it's no surprise that we've built more than one million RV GenSets. In fact, 8 out of 10 RVs with generators on the road today have an Onan.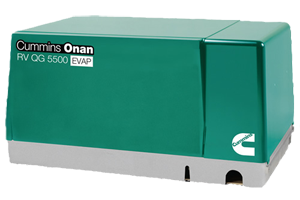 Onan designs generators specifically for RV use. Each new model undergoes extensive testing in the lab and in actual RVs to make sure it meets stringent performance, noise, vibration and emission standards. Plus...we back each unit with a three-year transferable, limited warranty and the largest certified parts and service dealer network in the business.
So, if you want a compact, smooth-running, exceptionally quiet generator you can rely on for excellent performance and trouble-free operation, turn to an Onan GenSet. You'll count yourself among more than a million satisfied consumers who have made Onan the number one choice for reliable, quiet GenSet power.
Onan also has a large selection of residential, industrial, and portable, generators. Click here to visit the Cummins Onan Gensets website.