Generac's portable generator (under 12.5 kW) and pressure washer product lines were sold to Generac Portable Products, LLC, a separate and independent company in 1998.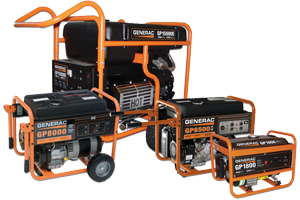 For information on portable generators (greater than 12.5 kW) please contact your local Industrial Generac Power Systems dealer.
Generac Portable Products continually rate the highest in quality, performance and value. Our extensive line of pressure washers and portable generators meet the demands of the homeowner and serious professional.
Generac Portable Products has a very large selection of portable generators.